SAN FRANCISCO – On November 2nd and 3rd San Francisco Coffee Festival will take place inviting city natives and visitors to an immersive coffee experience at Fort Mason Center for Arts & Culture (FMCAC). It will offer unique flavors from over ninety specially curated roasters and exhibitors from around the world.
We had a chance to talk to Mariana Faerron, the founder of Tico Coffee Roasters and one of the exhibitors at the festival. She tells Revolution English her immigrant story of making her way up to becoming a successful business owner providing coffee for big players such as Netflix, Facebook, Samsung, Twitter, HPE, and Sony.
Mariana is originally from Costa Rica and she moved to the Bay Area 12 years ago. The assimilation to a new culture and language weren't easy and Mariana found herself disconnected from her community and without a support system. She started frequenting coffee shops to meet people and find something meaningful to do. Soon she realized that people in America drink a lot of coffee but they are not generally exposed to high quality coffee that could elevate their experience.
She used to bring her own coffee from Costa Rica and many of her friends complimented on the flavor and richness of the beans she brought from home. Mariana saw this as an opportunity to bring good quality coffee to the US. Back in her country she had studied Agricultural Economics and had a chance to work with local coffee farmers.
I had friends who grew coffee and I asked them if they could sell me some. This is literally how we started Tico Coffee Roasters – with three bags of coffee.
Mariana bought her first three bags of coffee and tried selling them as green coffee beans. "I had no idea how to roast coffee or what this was all about. People thought I was crazy." Realizing she had a lot to learn in order to build her business, Mariana started researching how to roast coffee and with the help of her husband installed her first coffee roaster in their garage. The first batches were given away to friends in exchange for feedback, then Mariana started offering her coffee at events. The requests for her beans grew and two and a half years later she had to move out of the garage and into a warehouse in Campbell, CA. The warehouse seemed huge and Mariana thought that they would never be able to fill up the space. Little did she know that it would take only two years to outgrow it.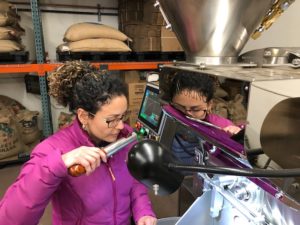 "We mostly sold through word of mouth and events. Then a year or two after we started getting requests from different companies and restaurants in the Bay Area to be their coffee provider," noted Mariana.
The hardest part turned out to be the understanding how to communicate with her market niche. Carrying a high quality product it was hard not to lose the essence of it in communication and marketing materials. Language became a barrier. Mariana had originally studied English in Costa Rica and while she knew how to communicate in English she needed more practice. She recalls that she was terrified to speak on phone. "I thought people wouldn't understand me." To improve her English she signed up for language classes the year she arrived. The following year she started to volunteer at The Tech Museum in San Jose, CA. Her job was to explain the exhibitions to visitors in English. This practice exposed her to different English styles and gave her confidence in the level and quality of English she had.
I made mistakes. I struggled, I observed, learned fast, and I overcame it. There were days I wanted to cry because things didn't go well in my business, but then I am really passionate about what I do and I kept telling myself to remember that these moments don't last long, to look at what I have been able to achieve. This is why I am in business after all these years.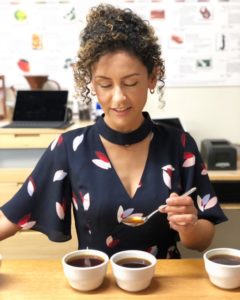 As a native Spanish speaker, Mariana was able to establish trust and contact with the best coffee farmers in different countries. Spanish speaking farmers would always share more with her because she spoke their language. This level of trust allowed Mariana to find the best coffees to bring to her clients and have long lasting relationships with farmers.
We asked Mariana what part of the business came the easiest. "The roasting and sourcing! I was amazed at how fast we were able to deliver a high quality product!"
Currently Tico Coffee Roasters is thriving by bringing the majority of its coffees from small farmers and co-ops that support sustainability and social responsibility. In the last two years strong focus has been put on coffees produced by women to encourage different educational and empowerment projects as well as to bring them business and visibility. The company has also been featured by SF Station as one of the leading coffee companies in the Bay Area run by a woman.
Check out the newest entrepreneur featured in Revolution English, Tico Roasters Coffee, at the San Francisco Coffee Festival November 2nd and 3rd with some very special flavor experience from Costa Rica.